Coming soon from Simon & Schuster.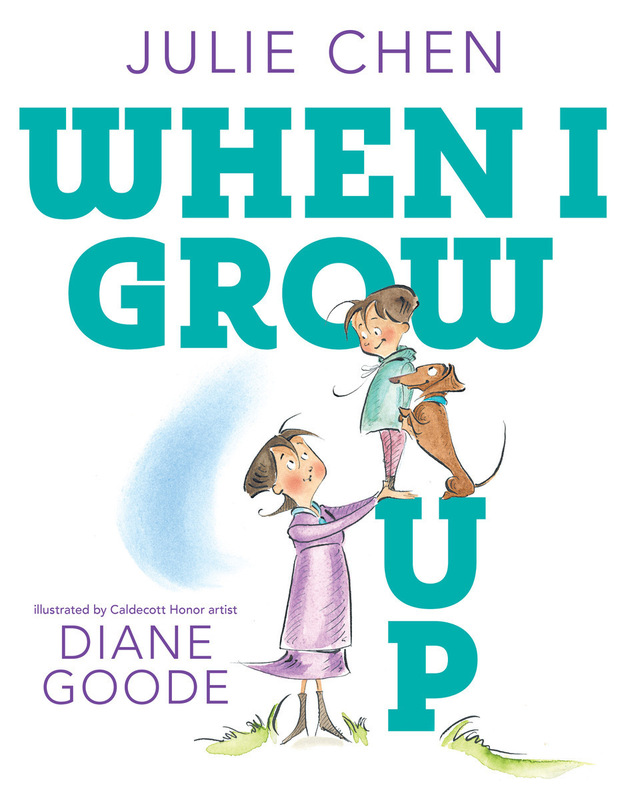 WHEN I GROW UP
* STARRED KIRKUS REVIEW: WHEN I GROW UP
A small child muses about the future as Mom guides the bedtime routine.
The premise and the characters are established from the start. Large, black lettering on the verso says, "Mom, when I grow up, what do you think I will be?" On the opposite page, plenty of white, negative space surrounds the opening scene: A small child stands on the bed, hand reaching out to a friendly pet dachshund, as Mom begins unlacing the child's pale green hoodie. Mother and child have dark hair and pink-cheeked faces a shade lighter than the dog's brown fur—all rendered with masterful control of ink sketching and pastel washes. All three have equally sweet facial expressions. Throughout the text, the child questions Mom about possible future traits and characteristics, occupations, and accomplishments. Such fanciful questions as "Will I be the mayor and let kids run the town?" are matched by equally imaginative illustrations, with the added treat of the dachshund's inclusion (here the pup serves as aide as a multiethnic group of reporters attend a press conference). The depiction of the child as musician is especially lovely: Child and dog sit beneath a tree as the child pipes and birds fill its branches. Funny artwork extends the narrative with a subplot in which Mom struggles to get her child's clothes off, hair brushed, etc. Young children will love the repetition of "Will I be…?" Mom talks just enough at the end to prepare both child and readers for sweet dreams.
Winning text and illustrations for bedtime. (Picture book. 2-4)



Just out from Abrams:   THE BEST MOTHJER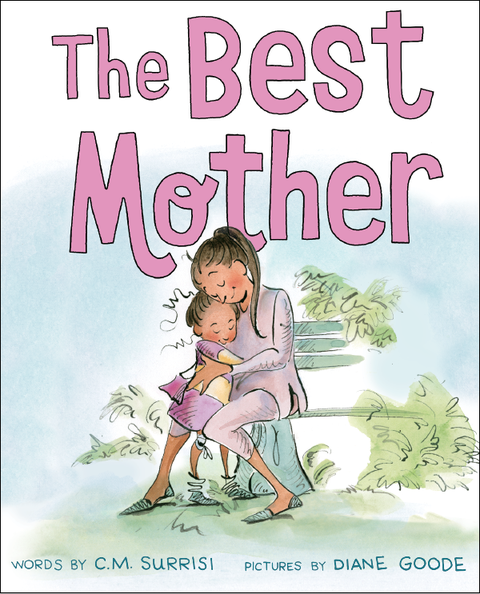 KIRKUS REVIEW: THE BEST MOTHER
Maxine searches for a new mother…and discovers the best one has been with her all along.
Maxine hates the morning routine of washing face, brushing teeth, and combing hair. "Maxine was sure a new mother would solve her problems." So she informs her mother of her plan to look for a new mom in the park, at the toy store, and at the zoo. But since she can't get to those places on her own, she asks her old mother to accompany her. Unperturbed, the old mother agrees, and readers with sharp eyes will see her as a constant presence keeping an eye on Maxine as she asks various women how they would respond in certain situations: cleanup time, drum-banging, wearing slippers in the snow, toy purchases. After each potential mother's response, she is summarily rejected. At the zoo, Maxine observes the animals with their babies, thought bubbles showing her own mother doing similar things with Maxine. A couple of page turns reveal that her old mother has done all the things the prospective new mothers scoffed at, and Maxine knows just which mother is perfect for her. Goode's pen-and-ink, watercolor, gouache, and pastel illustrations emphasize relationships and emotions. Maxine and her mother both have brown skin and hair: Mom's is straight, while Maxine's is unruly, curls sprouting energetically from her head and beneath her hat.
A delightful look at a what-if all children have considered, if not acted upon. (Picture book. 4-9)